A friend kindly gave me a lift to the airport and considering Changi as my 'home' airport, I found my way to the Lufthansa check-in counters. Having arrived there, a sign motioned me to head to the SATS Premier check-in area for First Class and Miles& More HON Circle members
The SATS Premier check-in area is located at the end of the check-in row 5. Travellers conducting their check-in here gets seated while porters assist with your check-in luggage. This includes my skis which are normally considered over-sized or odd items. There is even a separate entry to the immigration area from this area.
However some confusion by the agent regarding the visa took a while to settle before I could get my boarding pass and was told I could access the Silver Kris First Class lounge. Looking back, I have actually covered Silver Kris First Class lounges and the Private Room in Terminal 3 before but have not done so for the First Class lounge in Terminal 2 since that is like a lesser First Class lounge.
The Silver Kris lounge in Terminal 2 is located on the second floor past immigration. Escalators beside the duty free stores will bring guests up there. Guests will also bypass the Singapore Airlines Gold Lounge before arriving at the reception area where Business Class passengers head to the left while First Class lounge guests can turn right.
After the reception, there was some desks with customer service staff manning them even late at night. Here, travellers could get assistance for their itinerary.
First feature in the lounge past reception was a meeting room, a family room and 2 phone rooms. placed alongside the corridor to the main lounge and dining section. The meeting room was basic with a small round table and a work desk at the end.
Next to it was the family area with plastic chairs, a beanbag chair and 2 TVs with one of them having a game console attached to it. It is worth noting the family room is as well insulated as the meeting room, ensuring the noise is kept inside as much as possible.
The 2 phone rooms have a comfortable armchair with an ottoman for guests to converse on their phones without disturbing other passengers. Again this room was very well insulated. As such, I refer to all the rooms in front as the 'quiet section' of the lounge.
Next to these rooms was a room for parents to use to change diapers for their kids and the restrooms with shower rooms inside. The private shower rooms here have their own toilet and a pleasant shower area with rain shower. Amenities are wall mounted and generic so the shower is definitely not as nice at the ones Cathay Pacific has in The Pier First Class lounges. But they have most basic amenities including a stand for your hand carry luggage.
Little things like disposable cups, dental kits, combs, razors, mouthwash and eau de toilette are found in the countertops inside the shower rooms and the restroom area as well. This made it easy for lounge guests to brush their teeth prior to their flight or freshen up in any way they can.
Past the restrooms and shower area was 2 rows of magazine and newspaper shelves with departure information found above it. The Silver Kris lounge is still traditional in the sense there are plenty of international magazines and newspapers in the hard copy provided for guests.
Next to the magazine and newspaper shelves was a bar area that was quiet at night.
After that, it was to the main dining area with plenty of seats since it was already past dinner time when I arrived.
Around the walls of the dining area lies a buffet counter. So this First Class lounge does not have an a-la-carte menu but food on the buffet was a good selection and should be filling for most guests.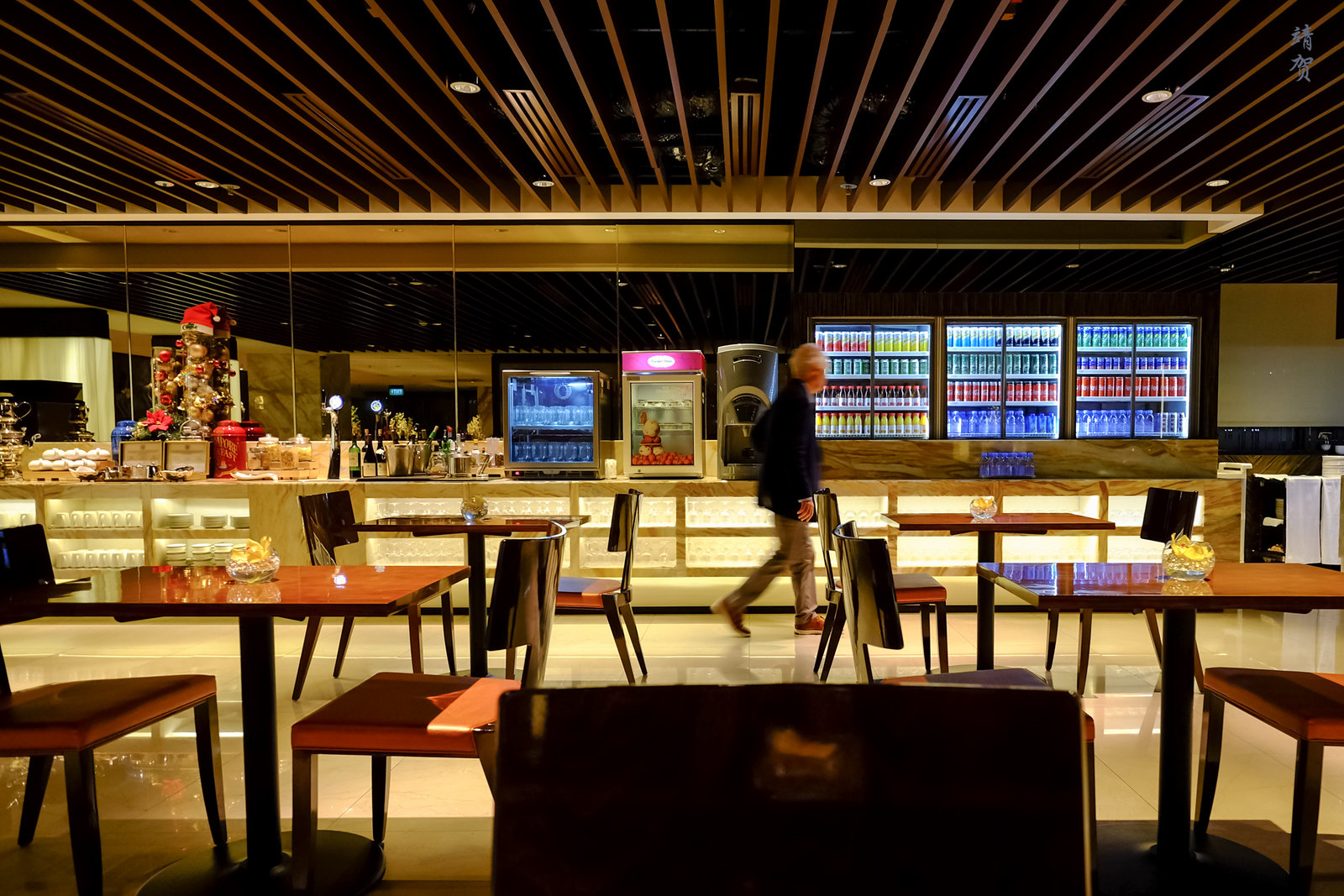 Starting with the lighter fare on the buffet, there was a selection of cheese and fresh vegetables on the salad bar. A variety of toppings was placed in bowls with croutons and dressings on another section.
Found alongside the salad in the chilled section of the buffet was mini pastries and bowls of sliced tropical fruits like papaya, pineapple, oranges and watermelon. There was also packed sandwiches and fresh apples and pears.
Onto the main buffet, there was vegetarian fritters with chutney as an Indian dish.
Other vegetarian dishes in the buffet includes stir-fried Ee-Fu noodles with vegetarian ingredients and an eggplant curry. There was also a stir-fried black fungus dish and a braised beancurd dish. All of these dishes seems to go well with steamed rice.
For non-vegetarians, there was pork fillet with 3-cup sauce in a Chinese style and a braised duck with citrus and apricot gravy.
A baked snapper with curry was also served to round up the buffet with a fish dish, while mashed potatoes was available as side dishes.
Two kinds of soup was served, a Chinese pot of braised chicken soup with yellow cucumber and a western soup of cream of tomato lemongrass.
For light snacks in the buffet, there was mini quiches and pizza slices along with fried spring rolls in a rotating food tray.
Potato chips, peanuts, and cookies are available in jars found beside the 'Tiger' beer served on tap inside the lounge.
And for some reason, cereals in jars was still on the buffet with a sign stating that milk was available from the staff even at night.
For dessert, I always liked the honey sea coconut with jelly but the day I visited, the dessert was papaya with white fungus and they are in individual ceramic bowls with cover.
There was even Haagen Dazs ice cream with chocolate, vanilla and strawberry flavour available from a separate fridge. This was specially in the First Class lounge since I noticed many of the food dishes can be found in the Business Class section as well.
For drinks, there was a self-serve bar with plenty of wines and alcohol to choose from. Otherwise, guests could also enjoy a cocktail or two from the bartender.
Another signature offering in the lounge was the TWG tea selection. There was a nice touch screen espresso machine in the buffet section for guests to make their own latte or cappuccino.
Meanwhile the drinks fridge contains canned Heineken beer along with bottled apple and orange juices. There was also assorted soft drinks like Coke, Ginger Ale, Sprite and Tonic Water along with bottles of Evian mineral water. Again, there was branded bottled water here instead of the generic ones found in the Business Class lounge. I also liked Singapore Airlines' lounges for their availability of 100 Plus, which is an isotonic sports drinks like Gatorade.
Separated from the dining area with a glass partition that also doubles as a bench seating was the main lounge area. The seating here is very open though with not much privacy covers for guests. Aside from the seats at the end columns that faces each other for 2 guests to talk, the rest of the seats were in the centre with seating that does not look that much different than any airport lounge. The main difference is this lounge is quiet with the seats being nicely spaced out.
Being quite late at night, I settled on having an ice cream for a supper and a bottle of water to quench my thirst.
With the lack of a dedicated menu, the food served here does not differ much from the Business Class section. The main differentiator being a slightly premium drinks choice and ice cream that would certainly delight most guests. In addition, the less crowds in this lounge meant it was a nice space to relax in. Furthermore, the attention to detail in the lounge like the noise insulation in the special rooms to the addition of flowers in the main lounge area to partition the seats gave it a touch of luxury. Do consider as well that Singapore Airlines does not use this lounge much since most of its premium First Class/Suites flights departs out of Terminal 3. Thus for serving Singapore Airlines regional First Class guests and Star Alliance First Class passengers, this was an adequate lounge in my opinion.