It was a busy departure time around noon with SAS, Etihad and Lufthansa departing close around this time. As such, there was an early call for boarding at 11:50 with final call happening at around 12:05pm.
CX367 Shanghai Pudong PVG – Hong Kong International HKG
STD-STA: 1220-1441
Actual: 1238-1521
Airbus A330-300 B-HLR
Gate D65 Seat 12K
As I checked in online the previous night for the flight, I knew it would be the 'Cirrus' long haul seats for the flight, as opposed to the regional Business class seats. Lie-flat and aisle access from every seat in a 1-2-1 configuration is definitely better than an angled flat seat.
The cabin was already quite packed when I boarded. As I settled into my seat, I was offered a welcome drink. There was champagne, orange juice, or water. Though none featured the signature Cathay drinks. A refreshing towel was provided as well.
Since it was my first time onboard Cathay Pacific's Cirrus seat, I looked around for storage compartments. The seat was comfortable and spacious, with the ottoman still quite far in the original upright stance of the seat. On the right there was headphone in the compartment, the inflight remote and an electric seat control in the shape of the seat. Power plugs and USB ports along with a reading light are within reach as well on this side of the seat.
The only drawback of this seat is perhaps the monitors that have to be retracted back on take-off and landing. While waiting, another round of beverage was offered during the somewhat long boarding process. After that, the Captain announced a flight time of 1 hour and 56 minutes.
Cabin crew went around to make sure the monitors were out for the safety demonstration to be shown in Cantonese and English. Menu for the flight was also distributed while taxiing which was fortunately without a long queue.
The menu for the flight was written in English and Traditional Chinese, and it read as follow: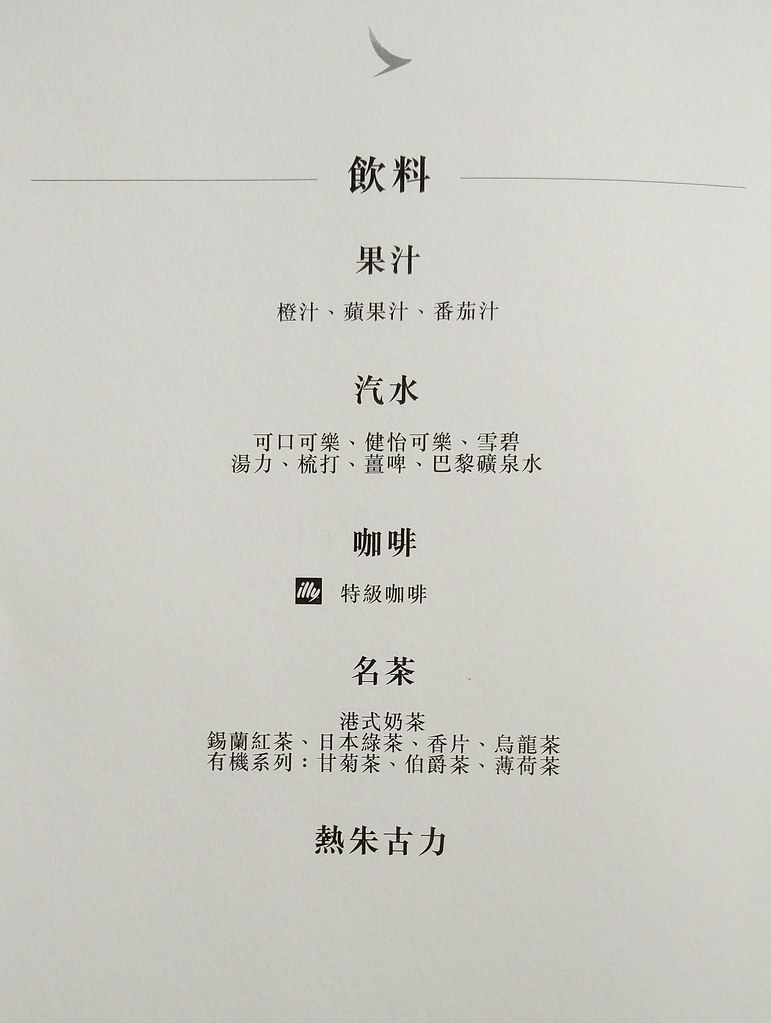 On a side note, I found the beverage selection to be quite good. There was also a nice variety of main course for the food, and it makes for a quality menu for such a short flight.
After take-off, I requested for a deck of playing cards and socks from the crew. Blankets are also available on request as I noticed a couple of passengers requesting them. Unlike the other Chinese based carriers, Cathay Pacific does not provide slippers though they did have a large compartment to store your shoes or small bag on the right side of the seat. This is also a neat compartment to place your water bottles.
Drinks are offered first though passengers need to ask if they want nuts. This was a bit of a departure where all Business class guests were provided with snacks and drinks before the meal. I was able to get a mug of milk tea which had to be prepared and a glass of water while I waited for the tea.
I figured on using the lavatory before the flight so I could relax and clean my hands before the meal. Lavatories are stocked with Jurlique amenities which is nice even for this short flight. Meal service had already commenced when I exited.
Table service was up to standard with a tablecloth setup and besides the utensils, there was a packet of antiseptic towelette.
A small salad portion was provided first along with a choice of bread from the basket. As usual I just picked on one garlic bread. Portion for the salad was no difference from the Economy meal and I thought it could be a bit more though I have no complaints with regards to the quality.
I went on to watch a movie in this short flight since Cathay Pacific has a great selection of movies and TV shows.
The meal service continued though it took a while for the main courses to appear. Cathay Pacific delivers its main courses on a tray for passengers to see. This is a nice way to let them pick on what they like rather than be disappointed on their expectations. The crew did ensure to come around with the beverage cart to ensure passengers do not go dry.
I ended up with the stir-fried noodles since I find Cathay Pacific has better catering for its Chinese or Asian options. The noodle did not disappoint from an airline food perspective and I enjoyed it with the supplied chilli sauce.
As usual, dessert of Häagen-Dazs ice cream was offered with coffee and tea. I was glad Cathay Pacific still retains this offering for dessert and it is easily the part to which I look forward to every airline meal on Cathay Pacific.
For the remainder of the flight I occupied myself with the movie before turning to the great inflight magazine. The cabin crew came around to offer some duty-free shopping as well after the meal service.
During our descent, we were put on a holding pattern, and the Captain came onboard to note a delayed arrival into Hong Kong by 10 minutes, further indicating wet and cool weather in the city. Passengers on the window seat were treated to a view of the ongoing construction of the bridge and tunnel that will link Hong Kong with Macau and the Mainland Chinese city of Zhuhai.
However heavy turbulence as a result of a tropical cyclone during the landing approach resulted in an aborted landing. Captain advised us later of strong winds as we had to make another round of approach. Fortunately the second attempt was a successful one and I was glad the passengers and crew was calm in this incident.
This little incident certainly made our delayed arrival even later and to make matters worse, our flight was parked on a remote stand. During our taxi, the strong winds continued to make loud noises and did delay a few departures out of Hong Kong as well. As I found out later in the terminal, a tropical cyclone signal level 1 alert was being issued and conveyed to passengers.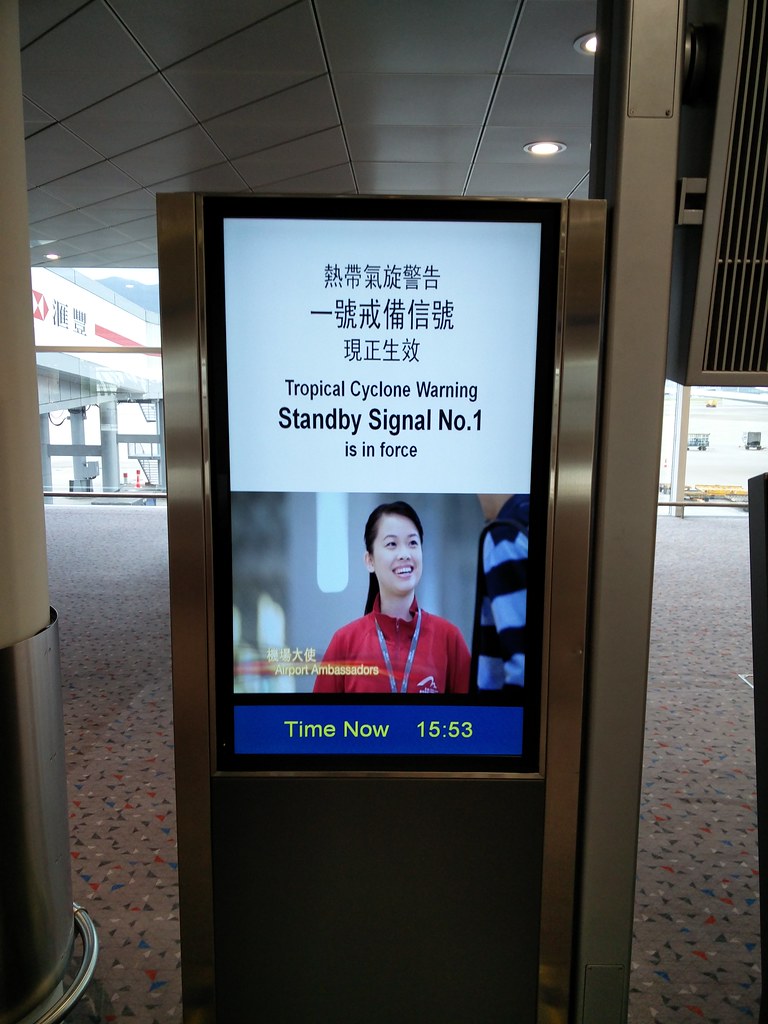 This standard 2 hour flight between the Asian financial hubs certainly shows Cathay Pacific as a premium carrier. The long-haul lie flat Business Class seats made it a joy to be in and its privacy and comfort was in all ways superior to the regional configuration. For such a short flight, the crew certainly did all they can to impress in providing the full meal service and showed a certain level of efficiency for a packed Business class cabin.