Having departed out of Shanghai Pudong numerous times via Cathay Pacific or Dragonair, I realized I have not really covered the Cathay Pacific and Dragonair lounge in Shanghai's Pudong Terminal 2. Compared to the older Terminal 1, the departure concourse in Terminal 2 looks far more impressive and feels less crowded. Cathay Pacific and Dragonair has departures nearly every hour to Hong Kong and even then their check-in counters are not very crowded most of the time.
With a reservation in Business class, I was checked in quickly and my boarding pass was handed to me. There was no mention of where I could find the lounge but having been there before, I did not ask. After getting my boarding pass, I went in search of some local snacks to bring back to Indonesia as there are some convenience stores before the immigration. There are also some restaurants and shops in the public concourse. With such a nice space, this was an equally nice space to spend some time before going to the lounge.
However with the afternoon crowds, I proceed quickly through immigration. As expected there was a queue, though it moved quite fast and it took a total of 15-20 minutes before I was looking for the entrance to the lounge.
Cathay Pacific has its lounge on the second floor with signs beside the escalators near gate 69. Guests could also access this lounge by elevators and once on the second floor, it is easy to spot the entrance to the lounge due to the red backdrop of the reception counter. I was welcomed into the lounge after they scanned my boarding pass.
The small reception area hides the fact this is a fairly large lounge. A stone brick wall lines the entryway that leads guests into this lounge. There are some seating area along with a magazine shelf and a small snacks and drinks counter in this section. The lounge by the entryway seems to be quieter and works for those passengers who are just seeking to get some drinks before boarding.
Lounge chairs are arranged to revolve around a small coffee table and there are partitions for each section though I would not call the lounge to be really private.
In addition to comfortable lounge chairs, there are some bar tables and stools beside the magazine shelf. This allows guests to have some snacks while reading a wide selection of newspapers and magazines.
Past the brick stone wall, there is a hallway leading to the restrooms which are clean and has a sleek white design. In terms of design, there really is no fault here, though for such a large lounge, there are no shower facilities.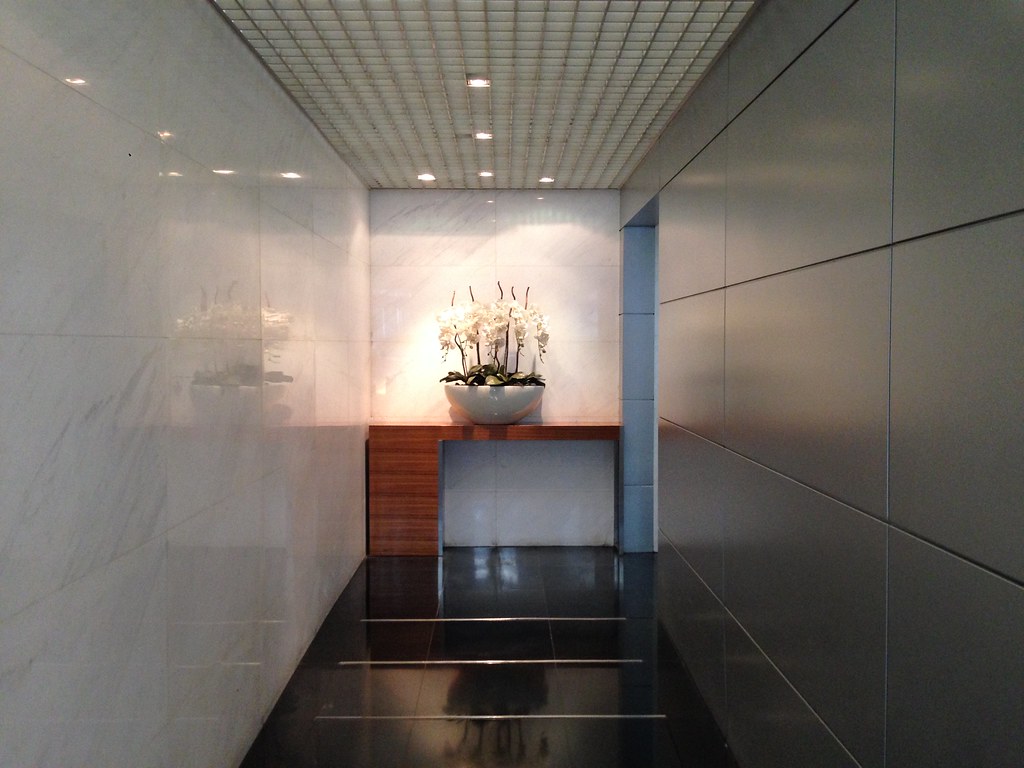 Moving past the restrooms, there are some private workstation booths with iMacs and Windows desktops. Guests could also use the complimentary lounge wifi allowing them to bypass the need to obtain a passcode for the airport wifi. The wifi speed is quite good and works well for Skype, and other common surfing activities. It would stream smaller resolution videos as well so that is good.
Across from the workstation area lies the main lounge with even more lounge seats. The central section is most crowded though there are more seats towards the end with partitions for guests seeking solace in the lounge.
At the other end of the lounge, there is a bar counter where guests could dine from. This is because there aren't any proper dining space in the main lounge. There are more dining tables closer to the reception desk. Though, the design of this lounge was not for dining in mind, since I expect most guests to be here for just an hour at most and Cathay Pacific/Dragonair serves a meal even on these short haul flights.
Along the wall, there is a decent buffet counter. In the morning, there are assorted dim sum and pastries on offer though I would not say the food was any way enticing. Many guests would be having the cup noodles here which is common for an Asian airport lounge. For refreshments there are a couple of wines provided, along with the usual liquors. There is also an espresso machine here and the usual apple or orange juice.
Usually when I visit this lounge, I would be content with just getting packets of snacks. There are potato chips, chocolate wafers, packed nuts and some biscuits which is again common for lounges in Asia. Practical snacks that guests could take onto the plane too!
Because the lounge is located on the second floor, it feels spacious and guests have a vantage view of the departure hall. That sure beats having to spend time by the departure gate, though the public waiting area is not that bad in Terminal 2 itself. To sum up, Cathay Pacific runs a decent lounge in Shanghai Pudong Terminal 2 and this certainly beats China Eastern's own lounges in Terminal 1. Though guests should not expect the same level of offering like their lounges in Hong Kong.