With a noon departure out of Zurich, I had breakfast at the Sheraton Zurich's club lounge first before taking a ready cab from the entrance of the hotel. The ride to the airport was uneventful with light traffic and it was leisurely drive leaving me with plenty of time to spare.
Swiss has a very nice setup in Zurich airport which is their main hub. Check-in areas are very spacious inside this modern terminal and there is an enclosed First Class check-in section reserved for their VIP passengers and HON Circle members. I received both my boarding pass for the Swiss and onward LOT flight to Toronto.
Zurich has a nice modern airport that is really clean and walking around the airport, I discovered they have a Läderach chocolate store. It is my favourite chocolate store in Switzerland! The public concourse is quite small compared to other airports and the lack of crowds that morning meant I manage to process my tax refund and customs stamp very quickly.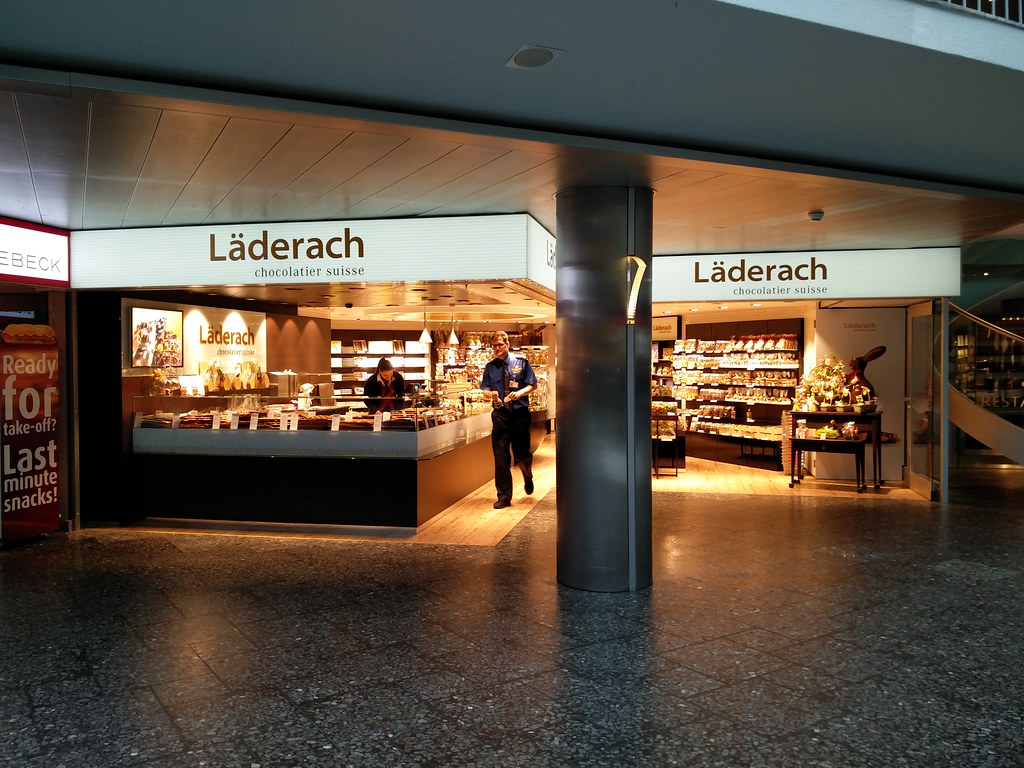 After that I head straight to security and there was no queue for the premium line but they had to rummage my bag for all the liquids with the stringent requirements being followed to the last dot. Electronic equipments were also taken out and resulted in multiple scans of my backpack and hand-carried lugagge, resulting in a long 20 minute check
Once in the departure hall, I went to look at the airport map to check out the location of the Swiss lounges as I forgot to ask about them from the check-in desk. There are quite a few lounges operated by Swiss and I figured I will just head to the large main lounge around Concourse A. There is the newer First Class lounge on Concourse E which is supposed to be spectacular but I would not have access to it.
There was no queue when I arrived at the lounge, and once past the reception, there are a flight of stairs or the elevator to bring guests to the upper floors where the lounge is located. The main seating and relaxing space is large but it was also quite busy.
On the buffet counter at the end of this main lounge space, there was a counter with potato leek and beef bouillon soup, fruits and canisters filled with popcorn, chocolates, butter cookies and Haribo gummy bears.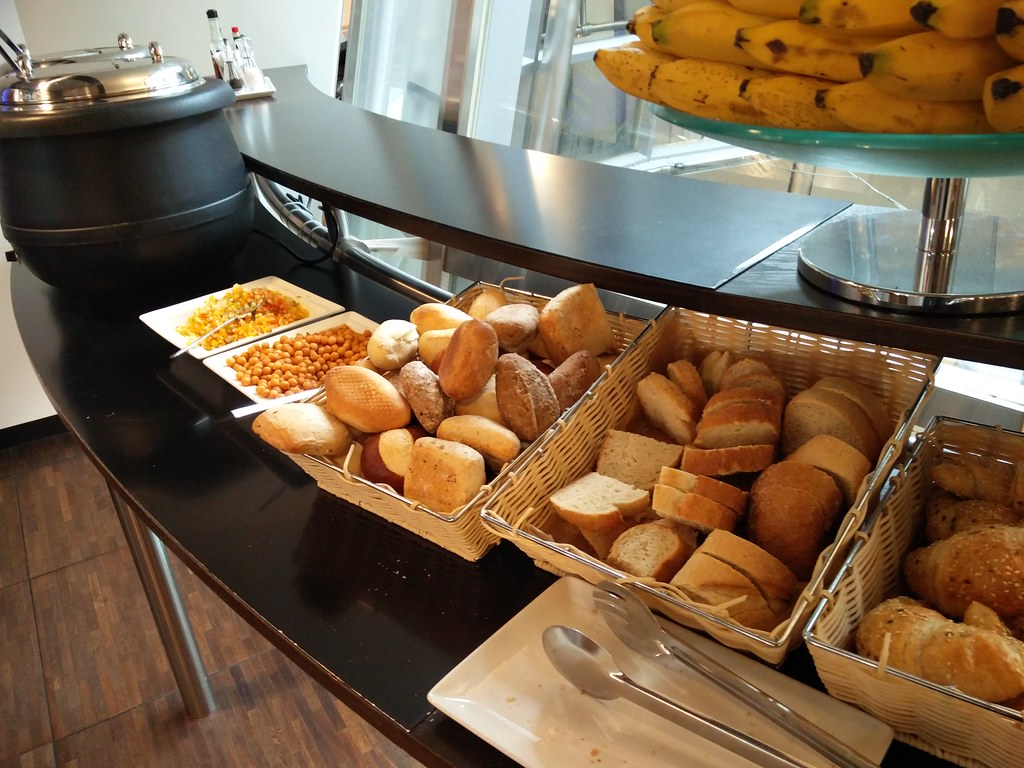 There was also paella and a variety of sandwiches. For beverages, there was a large self-serve counter like those found in supermarkets with all kinds of soft drinks and beers available. There are also jars of fruit juices, an espresso machine and several bottles of wine and other liquors.
After getting some snacks, I logged onto the wifi and it was provided with a code that was valid for only an hour. Most of the time this would be enough for the standard transit time though it makes it more difficult for those with long transits and requiring to work.
For those who are going to sit down and eat, there is a more comfortable dining space at the other end of the circular atrium with views of the terminal. While it was crowded, the lounge has space for me to sit down and enjoy my snacks.
This space has their own food and bar counter and has less crowds. Seats at the dining area also has a view of the airport buildings but not of the airplanes.
There is also a quiet workstation corner beside the dining space and a newspaper and magazine shelf that revolves around the wall pillar. This shelf also acts as a buffer to the walkway that leads to the First Class section. However most of the reading materials are in German/French and thus of little use.
The services and amenities in the main floor of the lounge provides travellers with a space to relax and grab a bite. However I figured the space and amenities are built and designed so that guests do not really want to linger too long. After all Zurich has one of the nicer airports that I have been to in Europe, and the main terminal has some nice lounge spaces in the waiting areas with views of the tarmac that would appeal to aviation enthusiasts.
As I left at around 11:30am to head to my boarding gate, there was a queue of people waiting to be checked in. While this lounge is large and has a good range of amenities, they seem to be quite busy and crowded and that might make it slightly unpleasant during a long transit. Guests visiting this lounge could do well to search a quieter spot either in the upper storeys or the side and corners during a longer layover. Otherwise, this Swiss lounge does fit into the carrier's character of providing quality and efficient service even if it is lacking in flair.