The 3rd hotel in Seattle I will review is the Hyatt at Olive 8. This is probably Hyatt's newest property in Seattle and located just a block away from the Grand Hyatt Seattle within a modern skyscraper that houses the Olive 8 condominium at the upper half. And being branded just 'Hyatt', the hotel goes for a contemporary boutique hotel feel in the design.
First impressions of the hotel is impressive with a private porch for guests arriving by car. The blue hues of its exterior also creates a 'cool' entryway for pedestrians.
Entering via the main door, a grand lobby awaits, exuding a feeling of spaciousness with its tall ceiling. There is a small cafe on the left and an alcove seating area with stairs leading to the mezzanine floor which houses the gym, pool and meeting rooms. The hotel's Urbane restaurant is situated beyond the alcove lobby and staircase.
Arriving slightly past noon, I checked in to discover that my room has yet to be ready though the friendly front desk associate welcomed me as a guest and provided me both the F&B amenity and the bonus points for being Hyatt's Diamond member. Granted I was a bit disappointed not being able to check-in immediately but by providing that extra touch, I was still pleased as a guest.
The front desk associate also provided me with a key to the fitness centre and swimming pool while I relaxed in the hotel for a bit. I also got a cup of hot cider which was provided with compliments beside the lobby. I then left the hotel after depositing my luggage.
Room No: 1534 Category: Luxury King Suite
The hotel gave me a call around 3pm which was quite late to inform me that the room was ready and I was able to retrieve the keys from the front desk but because the shift of the previous associate was over, the new front desk associate was not informed of my room and thus it took a while to sort it out. I think little things like these can differentiate between a good hotel and a great one.
Since I had applied a Hyatt Diamond Suite upgrade, I was given a Luxury King Suite, while booking at a rate of $120+ for a Deluxe King room. As far as suite upgrades go, I think Hyatt provides better suites for guests, and even though they are limited to 4 confirmed suite upgrades per annum, the suites I have been given by Hyatt Hotels are some of the best I have gotten anywhere.
Luxury suites are located by the corner on each floor and can be classified as a full suite. The space is visible with a large entry foyer that has a daybed/couch beside the work desk.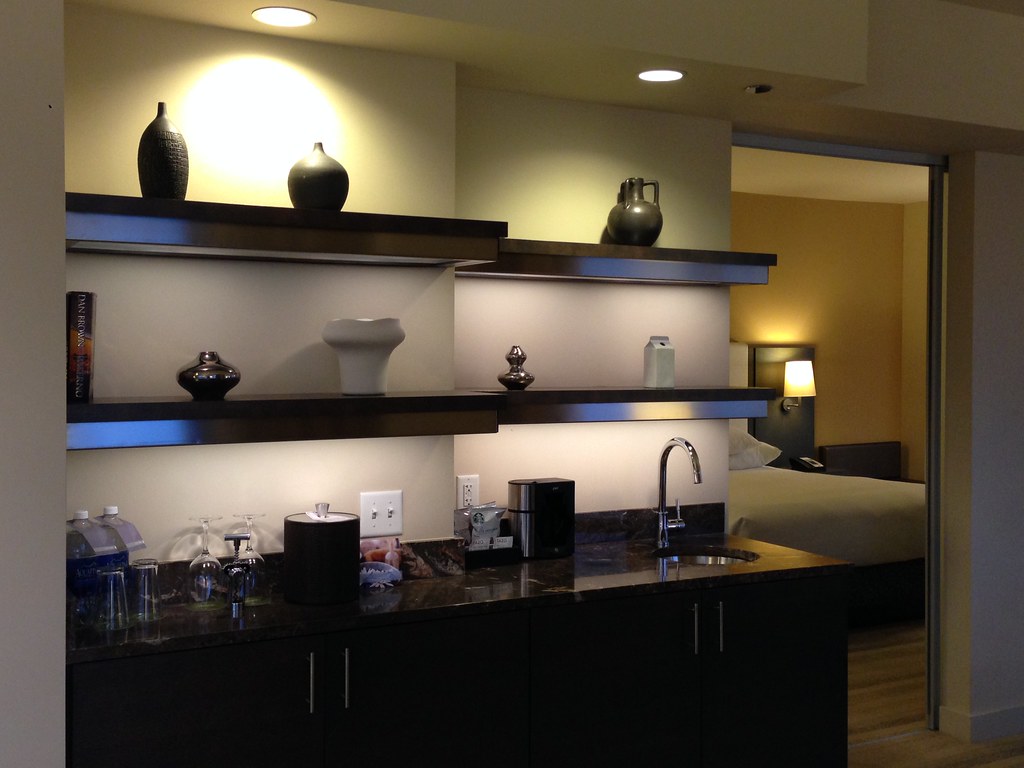 There is also a kitchenette with a small sink, a coffee maker, the ice bucket and 2 bottles of water. The only thing lacking was complimentary bottled water as those 2 large bottles in the room are part of the minibar. Beside the kitchenette there is a coat closet and a large spacious living room that is probably larger than the average living room in most downtown apartments.
The bedroom is enclosed with a King bed and seems ordinary by comparison to the rest of the suite.
There is a luggage rack and an armchair by the window in the bedroom.
Another nice feature in the bedroom are the his and hers closet space on both sides of the wall before the bathroom. This meant that there was enough space for an extended vacation here!
But what differentiates the suites are really the bathroom. There is an enclosed toilet, a spacious walk-in shower, a huge soaking bath tub, a dressing table and a double sink vanity counter. This was definitely one of the most luxurious bathroom I have seen in a city-centre hotel within North America.
Another positive is that the bathroom is very brightly lit and feels airy and spacious, making it very suitable for long showers! In fact because I went skiing for one of the days, I was able to have a long warm soak in the bathtub to loosen up those muscles.
My only disappointment in the bathroom was the standard Kenet MD amenities which is standard for the Hyatt Regency and Hyatt brand of hotels. They were average and usable, but nothing special.
Being a corner room, this particular suite faces northeast and has city views which are alright though not inspiring. Northwest facing rooms would have better views but again I think being located in the lower floor of a skyscraper does not help and at this location, the views are nothing to shout about either.
What was worth shouting about though are the facilities within this city hotel. I got to enjoy the huge indoor swimming pool that also houses a bath tub and pool chairs on the side. The pool is also well maintained with towels set up on the benches. There is also a functional changing room, lockers and shower stalls inside the pool area. Being an indoor space, it means the pool is in operation even during winter in Seattle!
Aside from a great pool, there is also a huge fitness centre that is one of the most well-equipped of any hotels I have been to. It is such a joy to work-out here, and even though these facilities are shared with the people living in the apartments, they were never too busy and the huge space in the fitness centre and the array of equipments meant it was still comfortable. For yoga fans, the fitness centre also has a large studio space for that exercise!
Both the pool and fitness centre far exceeds my expectations for a city centre hotel and even beats some 'resorts'.
With compliments, I was also able to enjoy breakfast at Urbane restaurant and as many bloggers have mentioned, the hotel provides breakfast for up to 4 person, which is mighty generous! The food here was not too shabby either as I ordered a dungeness crab benedict on one morning and a french toast on another.
In addition to complimentary breakfast for Diamond members, all guests could also help themselves to coffee and tea at the lobby.
As I mentioned earlier, I was provided with the F&B amenity as well due to the room being not available yet when I checked in. The amenity consisted of 2 bottles of root beer (there was a choice of sparkling water and some wine too I think), a bowl of spiced nuts and a bar of Theo peppermint dark chocolate. Not a bad amenity if I say so myself!
However there was some hiccup during my check-out. I had requested for late check-out at 4pm by the front desk on the last day but for some reason, I was locked out of my room after a work-out at the gym around 2pm. This meant going up and down to the front desk and having to ask the housekeeping maid to help me open the door since there was an 'issue' with the lock or something. Though I suspect the associate did not do his/her job when I requested for the late check-out and thus the key was not able to be registered. Anyway the associate checking me out did apologize when I mentioned it to her and I was actually given another upgrade during a second stay last month which I will write about.
Barring the hiccups at the end, I think the hotel is one of the best accommodation options in Seattle and definitely the best amongst those I have tried. Would I recommend this hotel to friends and family? Yes, definitely and I will even choose this place to stay in the future if I am to visit Seattle again!