US477 Salt Lake City International SLC – Phoenix Sky Harbor International PHX
STD-STA: 1710-1749
Actual: 1717-1736
Airbus A320-200 N661AW
Gate A4 Seat 11F
For my return flight to Vancouver, I was on US Airways Economy class for the shorter hop from Salt Lake City to Phoenix and this would be my first time on Economy onboard a North American-based airline for sometime and first time on US Airways so it was interesting at least for me. I was dropped off at the US Airways check-in counters by the friendly shuttle driver from Sheraton Salt Lake City and proceeded to check my bags through to Vancouver.
I took the above photo the previous night when I dropped the car off at the check-in counter and it seems the night flight out of Salt Lake City is usually busier with more ski bags checked in. For visitors without any free shuttle, they can consider taking the UTA TRAX light rail that connects downtown Salt Lake City to the airport in about 30 minutes which is is another kudos to Salt Lake City as a leisure destination.
There is nothing spectacular about Salt Lake City's airport and it is a hub of sorts to Delta Airlines. This meant that while SkyTeam flyers are probably able to get lounge access, oneworld and Star Alliance flyers would be out of luck. Even though I had US Airways Gold Status which would have allowed me access to Star Alliance's lounge at that time, there was no such lounge in SLC. Which meant I spent most of the time just airplane spotting and using the complimentary wifi in the airport. At least the airport has free wifi!
This allowed me to spot the arrival of the US Airways Airbus A320 that would take me to Phoenix and at that moment the weather kind of cleared up as well. Boarding the plane was orderly since it was not particularly crowded and I managed to be one of the first few to board as I settled into one of the exit row window seats which was a complimentary choice for US Airways Gold members too! The legroom is nearly as good as the seats upfront and that was great for the short flight.
Before the take-off, the pilot warned us of a bumpy take-off which I suspect is due to the high winds. Since the weather cleared up when boarding was ready, it became clear skies as we took off, and thus the turbulence was not that bad. Being on the window seat does have its advantages especially with the beautiful views on take-off of the surrounding mountains and I even got a glimpse of the Great Salt Lake.
For a relatively short hop to Phoenix, the flight crew went with one quick beverage service and she even gave me a full can when I asked for the apple juice. Not bad for an Economy flight within North America.
The rest of the flight was quite uneventful as we touched down on Phoenix quite early and I still had about 2 hours to spare for my next connecting flight to Vancouver. Since I had compiled a report on the service between Phoenix and Vancouver, there wasn't much else to add, though I was glad I was upgraded again on the second flight which makes it 3 out of 4 flights that I was upgraded on US Airways just for being their Gold Preferred Member.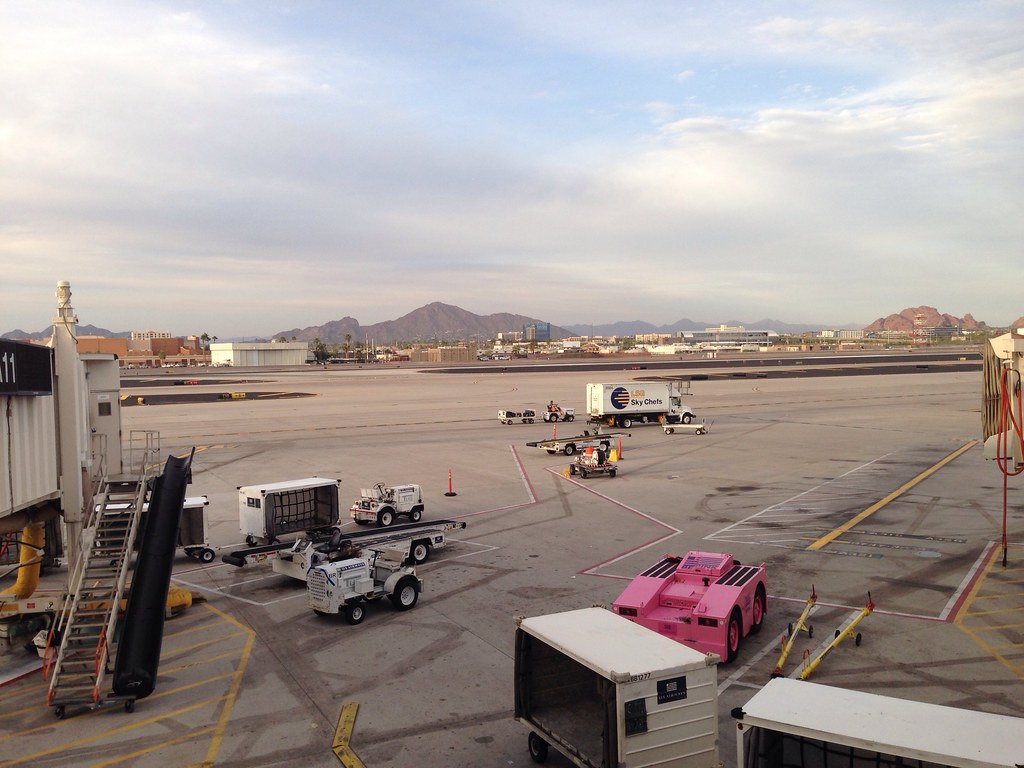 Compared to the other legacy carriers, I seriously cannot say one is better than the other especially for short-haul domestic flights. While the premier NY-LA and NY-SF service might have some variations, most of the US-based carriers have the same level of service standards and inflight amenities. Little wonder then the only competition comes from price. With the exit seat row and a can of drink, I am already a happy camper onboard US Airways Economy and I guess that is the privilege of having some sort of 'status' with an airline.